WHAT IS HEART WISE EXERCISE?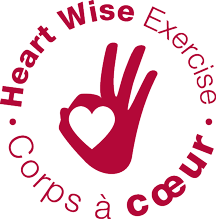 Heart Wise exercise guidelines were developed by the University of Ottawa Heart Institute. A program or class at our YMCA that is designated and approved as Heart Wise will have the Heart Wise Exercise logo. Heart Wise exercise classes meet the following criteria:
Approved Heart Wise program classes cover different types of exercise with different levels of intensity.
Please visit Ottawa Heart Institute for further information: https://heartwise.ottawaheart.ca/
Sign up for alerts...